In this free e-book, we'll take you on a guided tour of All About Spelling and the elements that set it apart from other spelling programs. It's these elements that make spelling easy to learn and easy to teach.
Sign up now to get instant access to this valuable e-book. You will also be signed up for our educational newsletter.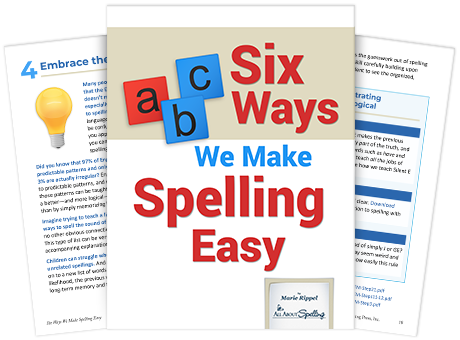 You will discover...
Six fundamental aspects of an effective spelling program

How to make spelling

logical

Key benefits of the Orton-Gillingham approach to teaching

How to help your child learn to spell more effectively

The main differences between mastery-based and grade-level based programs…and why it matters

How to tailor instruction for your individual child so he can succeed in spelling
As you read through this e-book, feel free to jot down any questions you may have. You can email us at support@allaboutlearningpress.com, or call us at 715-477-1976. No question is too big or too small—we're here to help!

Then, apply the methods outlined in this e-book and watch your child's spelling improve dramatically.