The ABC Snacks Series features three printable cookbooks with more than 40 snack recipes along with fun activities and helpful teaching tips—all designed to support important pre-reading skills.
You'll find a unique and healthy snack for each letter of the alphabet, and then some!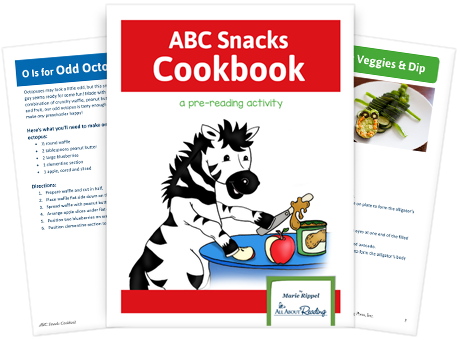 You will discover...
Simple and healthy snack recipes

Tips for teaching important pre-reading skills

Suggestions for 26 picture books—one to accompany each snack
In addition to receiving these free cookbook downloads, you will also be signed up for our educational newsletter. Our newsletter subscribers enjoy access to great reading and spelling resources, as well as news about amazing freebies and giveaways. You can opt out at any time, but we don't think you'll want to!
Bonus Download #1
Summer Snacks Cookbook - We've included an extra 10 fun summery snacks that your child will love! Also included are our handy tips for teaching pre-reading skills and a suggested picture book to supplement each snack.
Bonus Download #2
12 Months of ABC Snacks - This cookbook features a seasonal snack for each month of the year. There are snacks for St. Patrick's Day, Memorial Day, Easter, and much more! It's a whole year's worth of snacks…all in one place.
Bonus Download #3
Create your own cookbook! - Print our ABC Snacks Cookbook cover and create a cookbook using your own ABC snack recipes.