We hear it all the time from happy customers: the activities in the All About Reading program get kids excited about reading! The engaging activities have kids clamoring for reading lessons and eagerly wanting to learn. That's music to our ears!
Would you like to see for yourself what makes this award-winning program so special? Just complete the form on this page to get instant access to 10 reading resources, including fun activities and stories straight from All About Reading Levels 1-4. Try them out with your kids—you'll soon discover that All About Reading isn't your ordinary reading program!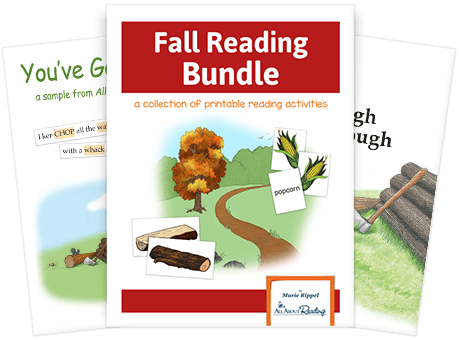 Here's some of the fun you'll find in the
Fall Reading Bundle!
Discover the rhythm of rhyming poems and practice clapping to the beat

Practice the phonogram IGH while building a cozy campfire

Read a story about how a king befriended a lonely bat

Cook up some yummy fall-themed ABC snack recipes

Explore a delightful collection of picture books perfect for fall
As you work through these activities, feel free to jot down any questions you may have. You can email us at support@allaboutlearningpress.com, or call us at 715-477-1976. No question is too big or too small—we're here to help!