Delight your child with this assortment of games featuring the characters from All About Reading!
Does your child have a favorite character from All About Reading? You're in luck! This pack includes 5 fun pencil-and-paper games for two players, and each game features one of the loveable characters from AAR. Best of all ... these games can be printed over and over again for endless fun! After playing the games, be sure to dive into the five coloring pages!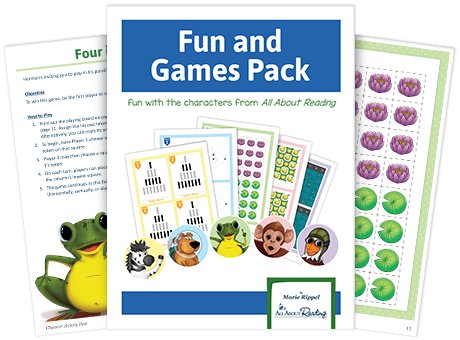 You will receive...
Ziggy's Stripe Strikeout game
Rocket's Rocket Race game
Herman's Four in a Pond game
Melinda's Bunches of Bananas game
Dusty's Sky Hunt game
Five character coloring pages
In addition to receiving this free download, you will also be signed up for our educational newsletter. Our newsletter subscribers enjoy access to great reading and spelling resources, as well as news about amazing freebies and giveaways. You can opt-out anytime, but we don't think you'll want to!