Does your child sometimes confuse certain letters, like b and d or n and u? Beginning readers and dyslexic children may struggle to differentiate between letters that have similar shapes, and issues with letter reversals can have a direct impact on reading, writing, and spelling.
But your child doesn't have to struggle—letter reversals CAN be solved! Download this free e-book to explore 4 methods that effectively solve letter reversal problems and help stop the confusion.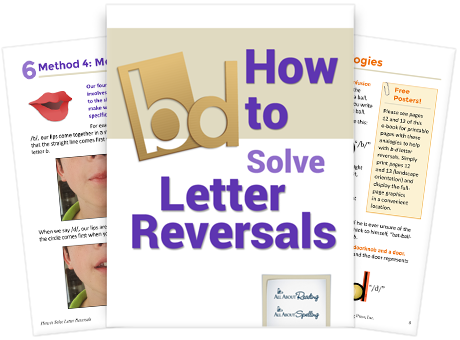 You will discover...
How to prevent confusion and stop letter reversals before they start

The importance of using tactile surfaces when teaching new letters

Why "air writing" is an effective way to clear up letter confusion

Three analogies to help children distinguish between

b

and

d

—for good!
If you have any questions as you read this e-book, please let us know! You can email us at support@allaboutlearningpress.com, or call us at 715-477-1976. No question is too big or too small—we're here to help!
Letter reversals CAN be solved and this e-book will show you how.