Make it FUN to practice reading and spelling with these full-color activities!
The Penguin Pack contains 30 printable pages of penguin-themed reading and spelling activities that will increase motivation and mastery, making review time meaningful and enjoyable for your student. We've included activities that work well for students at any level.
Here's what you'll find...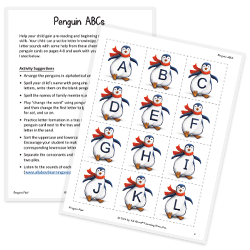 Penguin ABCs
This versatile activity covers pre-reading and beginning reading and spelling skills. Your child can practice letter knowledge, handwriting skills, and letter sounds with help from some cheerful penguins. Uppercase and lowercase letters are included.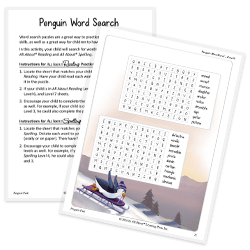 Penguin Word Search
Word search puzzles are a fun way to practice reading and spelling skills, as well as a great way for children to have fun with words. This activity includes seven full-color sheets of word searches that correspond to specific levels of All About Reading and All About Spelling.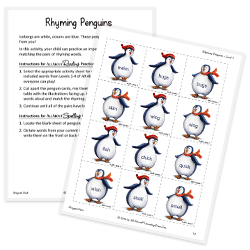 Rhyming Penguins
In this activity, your child can practice an important reading skill by matching pairs of rhyming words. There are four skill levels included, plus a sheet of blank penguins on which your child can practice spelling words.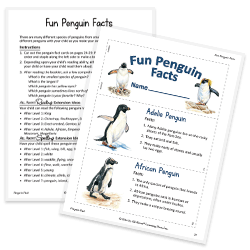 Fun Penguin Facts
There are many different species of penguins, from small to large.
In this activity, your child can explore sixteen penguin species and make his very own 18-page penguin fact book.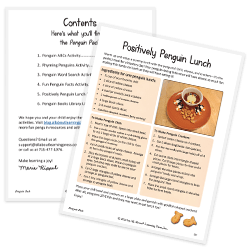 Positively Penguin Lunch
Warm up and enjoy a yummy lunch with the penguins!
Chili, cheese, and crackers—it's the perfect meal for a blustery day. Your penguin-loving little (and not-so-little) ones will have almost as much fun making this hands-on lunch as they will have eating it!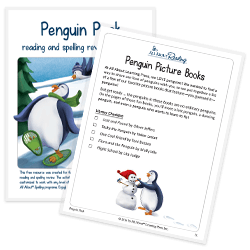 Penguin Picture Books
Here is a list of our favorite picture books that feature—you guessed it—penguins! But these are no ordinary penguins. On the pages of these fun books, you'll meet a lost penguin, a dancing penguin, and even a penguin who wants to learn to fly!
All of the activities included in the Penguin Pack correlate with All About Reading and All About Spelling, but they can easily be used independently of these programs.
Do you have any questions about teaching your student how to read or spell? Send us an email at support@allaboutlearningpress.com, or call us at 715-477-1976. No question is too big or too small—we're here to help!