Reviewing spelling words can be easy, exciting, and delicious when you have a popcorn party! This engaging, educational game includes words from All About Spelling Levels 1-7, so it works well for students at any level.
It's a proven fact that children learn best when they're taught simultaneously through sight, sound, and touch. Games like "Popcorn Party!" are an effective way to increase motivation and mastery, making review time meaningful and enjoyable for students.
Discover for yourself just how easy (and fun!) spelling can be. Download "Popcorn Party!" today!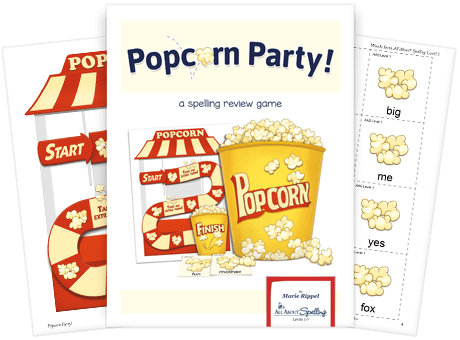 Here's what you'll find...
A full-color popcorn machine game board (a black-and-white version is also available)

14 pages of printable "popcorn" Word Cards that represent dozens of concepts from Levels 1-7 of

All About Spelling

Blank "popcorn" Word Cards for individualized review

Multisensory (and tasty!) fun for students of all levels
Do you have any questions about teaching your student how to spell? Send us an email at support@allaboutlearningpress.com, or call us at 715-477-1976. No question is too big or too small—we're here to help!
Save