Did you know that rhyming is one of the best predictors of how easily a child will learn to read? That's because good rhymers are better equipped to notice that rhyming words often have shared letter sequences, such as –all in tall, ball, and small, which in turn gives them a considerable head start in learning to read.
You can teach your child this important pre-reading skill! Download this free e-book to learn techniques and games to help you develop your child's rhyming abilities in all three stages of rhyming.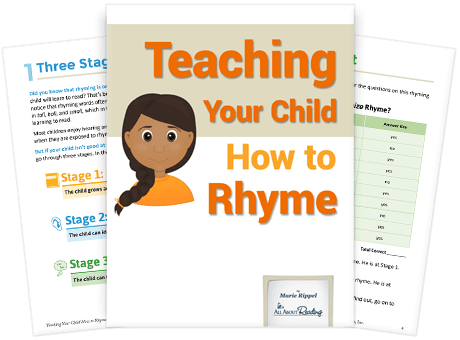 You will discover...
The three stages of rhyming

Rhyming tests to check your child's current ability to recognize and produce rhyme

Three printable games to play with your preschooler

Wonderful rhyming picture books to help your child become accustomed to hearing and repeating rhyme

A fun way to practice rhyming while getting your child moving
As you read through this e-book, feel free to jot down any questions you may have. You can email us at support@allaboutlearningpress.com, or call us at 715-477-1976. No question is too big or too small—we're here to help!